When I was watching
Tommy
last night, I thought to myself, Wow this is some weird freaky shit!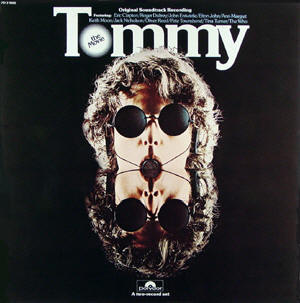 Of course I was immediately won over by the fabulousness of Ann Margaret, who plays Tommy's mom. I loved the scene when she throws the champagne bottle into the TV and then champagne and chocolate comes pouring out of the television and she ends up rolling around the floor in it, until it looks like she's swimming in a sewer. Amazing!
It's the rock musical about a young boy whose father goes off to war and is presumed dead, but who comes home to find his wife in the arms of another man. This other man then knocks him dead, and this is all witnessed by the young Tommy, who from that point on becomes deaf, blind, and dumb. Turns out that his only saving grace is a pinball machine, and he becomes so good at it, he manages to win the championship from the Pinball Wizard, played by Elton John.
And of course, there's the unforgettable number with Tina Turner as the Acid Queen. Absolutely FAN-FREAKIN'-BRILLIANT!!
And now i know where Madonna got her inspiration for her Let It Will Be video that she did in the red dress...
Anyway, it was a fun, trippy, sometimes scary, movie. Not for the faint of heart, or anyone looking for a Mary Poppins-type musical. This ain't it! But if you like say,
Hedwig and the Angry Inch
, this could be totally up your alley!